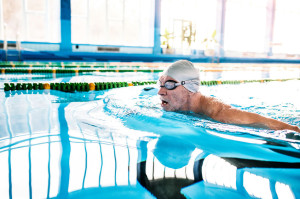 Your neuro-musculoskeletal system is an amazing feat of engineering. Your spine alone contains bones, joints, nerves, muscles, arteries and veins that work in coordination to help you walk, run, jump, throw, lift, stretch and more. Although these components are incredibly tough, they're also susceptible to injury and general wear-and-tear. This is especially true if you spend the majority of your time on your feet, or you work a physically demanding job.
If you experience back pain, you might think the best course of action is to rest and take it easy. And while that may be the case in some instances, exercise is actually more effective. Regular exercise encourages circulation throughout your body, which can reduce inflammation and swelling. It also encourages the release of endorphins or "feel good" chemicals. Endorphins affect the way your brain responds to pain signals, which also provides relief.
But how do you know what type of exercise is right for your body? After all, if you're experiencing pain, you don't want to do anything that will make it worse or trigger further problems. Fortunately, there are several spine-friendly exercises that are safe and low-impact.
Biking. Riding a bike allows you to stay completely stationary. The only part of your body that does any work are your legs and feet. While riding, make sure to maintain good posture and always wear a helmet. If your pain gets worse, stop immediately and make an appointment with your doctor of chiropractic.
Swimming. Swimming is another low-impact exercise that can support spine health. When you're in the water, there's less pressure placed on your joints. Additionally, swimming builds endurance, muscle strength and heart health. There's no risk of slipping and falling, and if you get too tired you can always take a break.
Yoga. Yoga is much more than an opportunity to meditate or center yourself. It also can strengthen your core muscles while encouraging flexibility and your range-of-motion. Combined with chiropractic care, yoga can also promote good posture and better neuro-musculoskeletal health as a whole.
If you have questions about the type of exercise that will most benefit you, schedule an appointment with
Dr. George Salama, DC a chiropractor in Greensboro, North Carolina.

Following an exam and discussion of your goals for treatment, Dr. Salama, a licensed North Carolina chiropractor can make recommendations that align with your needs.
Call 336.274.3500 for a free initial consultation or visit SalamaChiropractic.com to learn more.